20 Sep 2021
Apperio's new personalised dashboards now live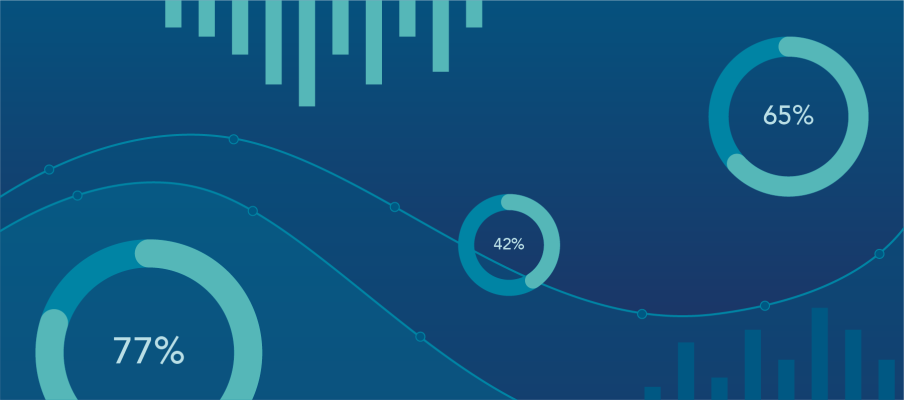 As the volume of legal spend data continues to grow within Apperio, we recognise the need to offer a more personalised experience to users by improving our dashboards. This update will help you to surface meaningful data quicker and achieve specific new goals. We hope this will make your data more readily available to understand and take action on.
We now have two dashboards available for in-house client teams:
Birds eye view - ideal for General Counsel, finance leaders and legal operations.
My matters - perfect for in-house lawyers and deal teams. 
Birds eye legal spend dashboard view for General Counsel 
This dashboard provides you with a centralised view of key metrics and outstanding actions across all your legal spend. You will now be able to see at a glance which matters and law firms are accruing the most unbilled and billed amounts, over specific time periods. The dashboard will also help track your budgets for specific matters. These changes allow you to take preemptive action well in advance of a budget being exceeded. The dashboard also helps you to track both total and specific law firm spend against the previous 30, 60 and 90 day periods. 
Our dashboards allow you to remain 'ahead of the invoice' by flagging spend-creep and monitoring budget thresholds: long before the point of invoice. General Counsels, legal operations and team leaders can also track all new matters coming into Apperio, and ensure they are assigned to the right team member and budget.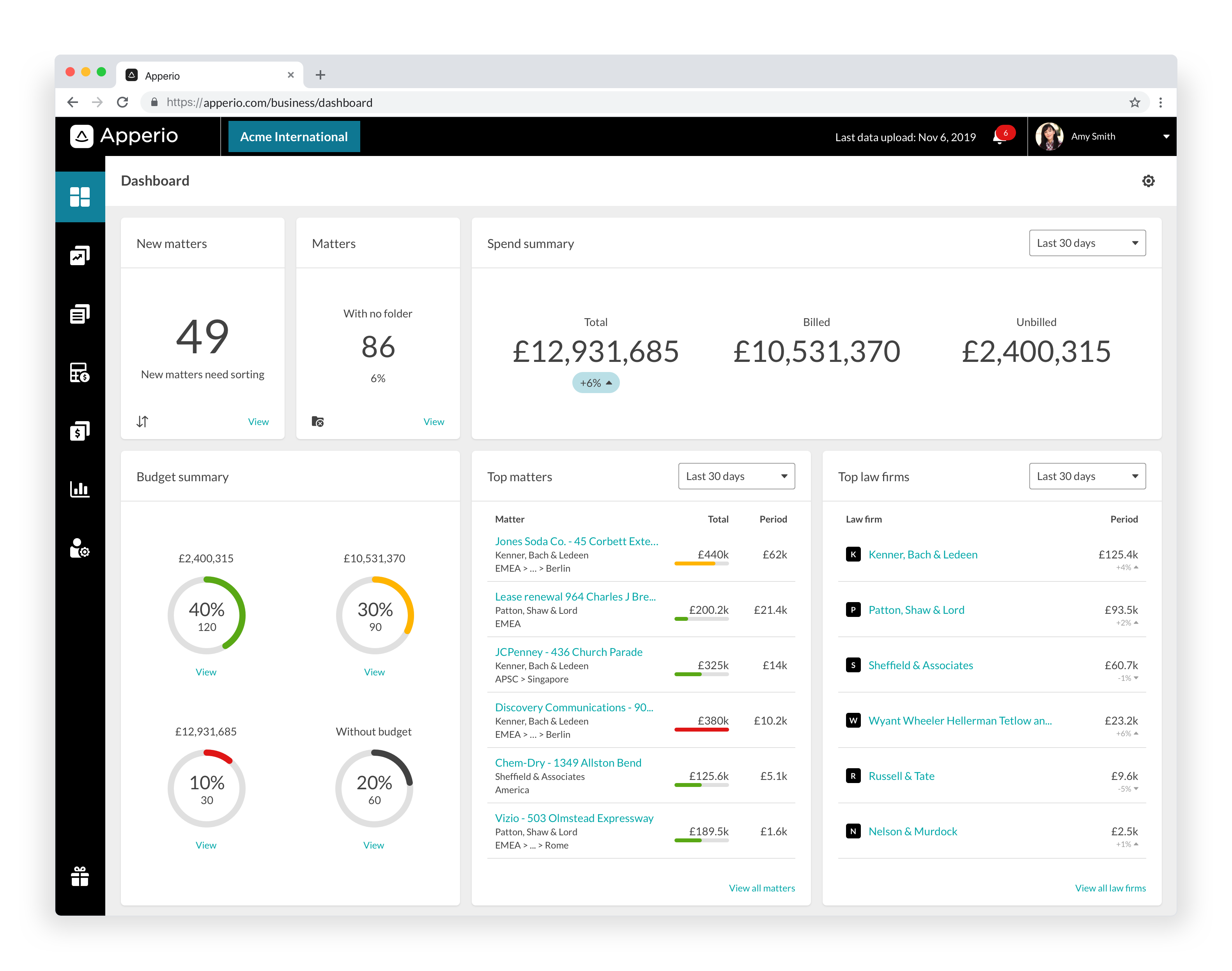 My matters
Team members now have the option of personalised dashboards consisting of only their assigned and starred matters. All relevant new matters will appear in this 'My matters' dashboard, along with a total view of their matters against budgets.
Our 'Spend summary' also helps to group together matters, giving a total, billed and unbilled view of their spend. Similarly, our 'Top matters' and 'Top invoices' lists provide a view of where spend has been allocated over a selected time period.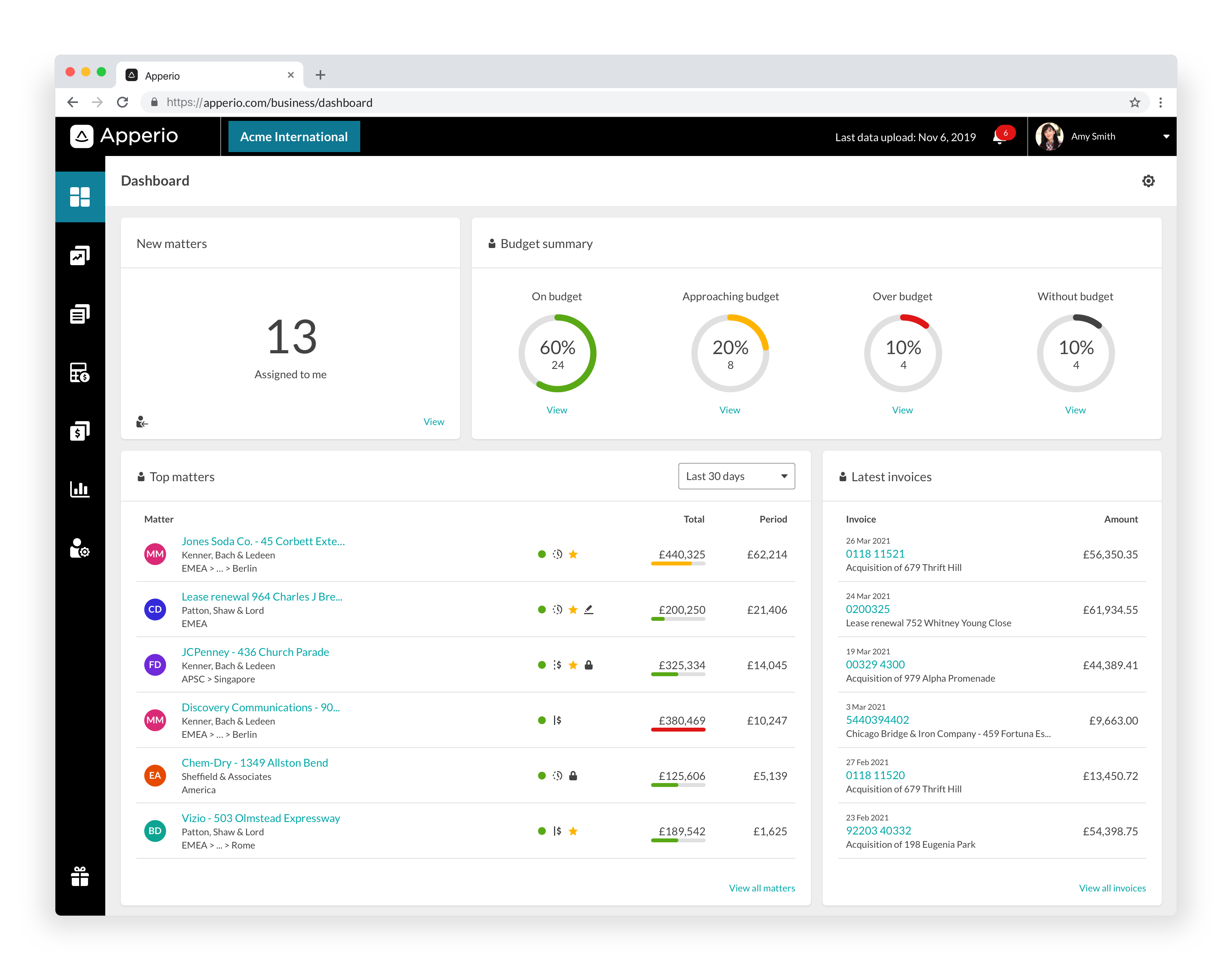 What's next?
Within time, we hope to offer fully customisable dashboards at a user level. For example, this may allow you to 'drag and drop' data points you wish to keep track of, on your own personalised dashboard. We aim to integrate further actionable insights, internal benchmarking tools and additional reporting to help you realise the potential of your legal spend data within Apperio.
We really appreciate feedback from all our clients, and use this to help improve Apperio further. We'd love to hear what data is most valuable to you, how we can further improve our data visualisations and how you would like to engage with our product. Please speak to your Customer Success Manager, or email success@apperio.com to have a chat with us and provide your feedback.
Explore more content on similar topics: