2 Oct 2020
Corporate Counsel emphasizes business acumen: 5 interesting findings from a survey of GCs and CLOs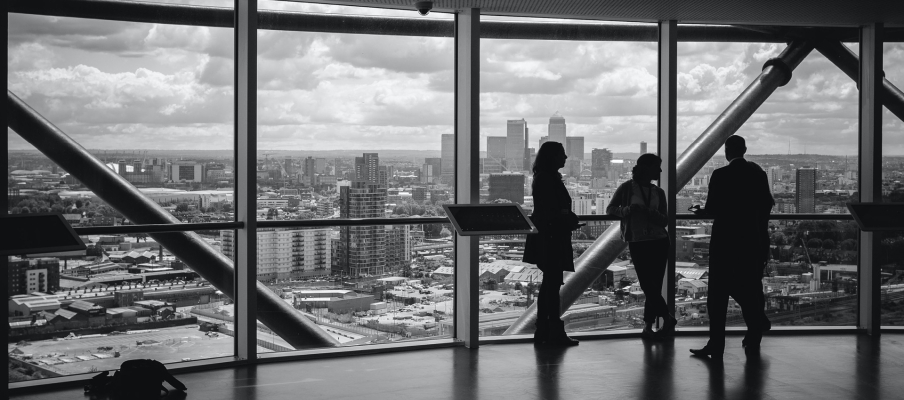 "Being a good lawyer is a given; it's the other skills that matter."
That's how one chief legal officer (CLO) summed up in-house duties for the Association of Corporate Counsel (ACC).
The organization polled more than 1,000 GCs and CLOs and found respondents spend around "one-third of their time providing legal advice." The rest of their time – the remaining two-thirds – is spread evenly across leadership, communication, business risk, strategy and other duties that aren't inherently legal issues.
Legal expertise is "table stakes," wrote legal business consultant Mark A. Cohen in an analysis of the ACC survey that was published in Forbes. Legal skills "must be accompanied by other skills – notably business acumen and leadership."
Indeed, evidence of those attributes showed in a variety of ways throughout the survey's findings. Below are a few of the most interesting findings that stood out for us.
1. Greater visibility with the CEO and board of directors
Corporate legal leaders are getting more facetime with business leaders. The majority (80%) of CLOs say they report directly to the CEO – that's up by 15% from the same survey two years ago.
Among the remaining 20% of respondents that say they do not answer directly to the CEO – most report to other C-Suite executives. About half (50%) report to the chief financial officer (CFO) and another 18% to the chief operating officer (COO).
It's not just CEOs that are seeing the top company lawyer more often, but also the board of directors. According to the survey, about half (53%) of in-house legal leaders say they "have a reporting line" to their company's board.
2. Legal input on business decisions
Business risk consumes most of the management's time and attention – as opposed to financial risk or legal risk – yet 62% of CLOs are "almost always" consulted about business risk. When it comes to making a business decision, the involvement of legal leaders is even more prominent. About three-quarters (73%) of respondents say business leaders "almost always" seek their "input on business decisions" – up from 59% in 2017.
3. Top projects driving law department efficiency
GCs and CLOs are also focused on driving greater efficiency across their law departments. According to the survey, the top initiatives legal leaders say they have implemented to improve efficiency include:
58% redesigning in-house legal workflow processes
50% fostering greater adoption of legal technology
40% focusing on project management
36% reorganizing the legal department's structure
25% collecting and analyzing metrics
15% outsourcing work to a "non-law firm" vendor
11% employing a legal operations professional
One respondent wrote in an open-ended comment that part of improving efficiency is deciding what the in-house legal team is not going to do. "Instead of doing more with less, the mission is to stop doing things that we really do not need to do."
4. Growing emphasis on legal operations
It's not coincidental that the role of allied professionals – especially legal operations – has grown in the legal department as well. A little more than half of law departments (54%) have at least one person dedicated to legal ops – and one in three legal shops (29%) have two or more.
The average number of full-time employees (FTEs) legal shops have dedicated to legal ops is 5.9 – up from 1.8 over the last three years. What's more, one in 10 CLOs have plans to hire more professionals in this role.
"The trend clearly points toward a higher presence of legal operations professionals in the legal department, with a 30-point increase in the number of departments that have at least one legal operations professional," according to the ACC's report on the survey.
5. Technology enables law department efficiency
The survey data and sentiment around legal technology suggests many respondents beleive it plays an important role in driving efficiency. About half of CLOs either plan to adopt new corporate legal technologies (42%) or have already implemented such solutions in the last year (10%).
This is more conspicuous among large companies, with at least $3 billion in annual revenue. In those enterprises, 70% of CLOs are "keen on adding technological tools or having already done so."
"Incorporating technology in the legal department prevents human error, supports day-to-day operational tasks that impact times of response, leaving more time to dedicate to strategy and thinking about the business," wrote one respondent.
Coupling Business Acumen with Creative Thinking
"The CLO may be the top legal officer, but the role now transcends traditional legal boundaries and is inextricably fused with the enterprise," according to Mr. Cohen in the aforementioned Forbes piece. "The legal team is no longer a self-contained department that operates by its own metrics-or lack thereof, speed, and operating standards."
Perhaps more importantly, he suggests the individual business acumen and leadership skills alone are insufficient to support the larger CLO role that's emerging. "The augmented skills required of CLO's must be accompanied by intellectual agility and creativity. CLO's must have the ability to reimagine how things could be done to better align with the enterprise and to meet its objectives."
The Association of Corporate Counsel surveyed a total of 1,007 in-house legal leaders across 20 industries and in 47 different countries for this annual survey. The full report runs 56 pages long and is available for download here: 2020 Chief Legal Officers Survey.  
* * *
See Apperio in action: The Apperio platform provides in-house legal teams with a proactive approach to legal spend management. We've already partnered with more than 200 global law firms to provide clients with insight into WIP.  See for yourself and schedule a live demo by emailing info@apperio.com.
If you enjoyed this post, you might also like:
E-billing vs. Legal Spend Management: Similarities and Differences
Image credit: Photo by Charles Forerunner on Unsplash 
Explore more content on similar topics: