23 Mar 2021
What's next in legal tech user experience: expanding UX for an ecosystem of needs in legal spend management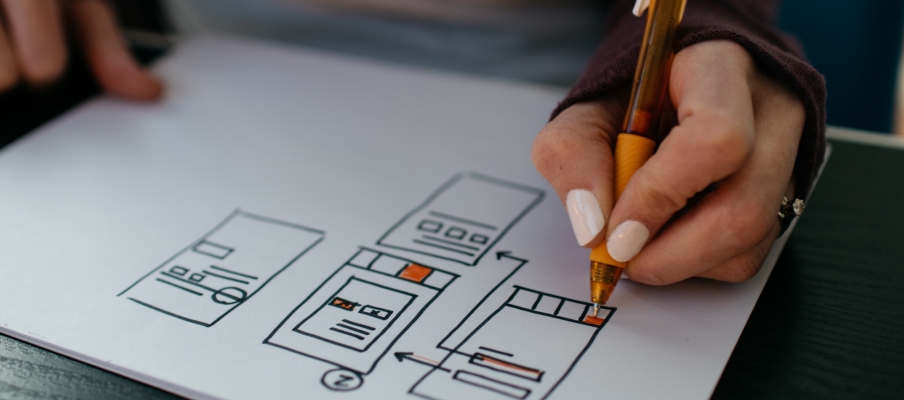 Too many times within legal technology, the focus is entirely on the features of the solution. User experience is not considered as important compared to a check list of capabilities.
User experience and interface design have always been part of our product DNA and we are continuously improving the user experience (UX) for our customers. There's a lot of detail and diligence that goes into designing the technology experience. Below are a few examples to illustrate. 
1. UX versus design: the unexpected use case
There's a popular meme that circulates online periodically to demonstrate the complexity in UX. It's an image of a carefully designed, paved L-shaped walkway. A dirt path – carved out by foot traffic – cuts a diagonal shortcut that avoids the corner of the paved walkway. The paved walkway is intended to depict "design" and the footpath, the"user experience." 
The image is modestly controversial because, among other reasons, it assumes that the design process is not driven by the user's experience but is at odds with it. At Apperio we put user experience first, (as every professional product and design team does!). Even so, the meme does convey a concept that emerges frequently: customers can and do use products in unexpected ways. 
We've experienced this firsthand with Apperio. The in-house legal teams we work with have used Apperio to monitor all types of costs, not just external counsel.
2. File based systems: navigation and user adoption
The use of files and folders in computing has been with us since the middle of the last century. Based on the sound principle of using familiar concepts, files and folders were borrowed from the real-world filing cabinets and folders of paper documents familiar to everyone at the time. However, as every good clerk would have known in the 1950's, without clear policies around structures and naming conventions for folders and files, nobody can find the information they need.
Employees have good intentions when they add files to your document management system or shared storage, but governance policies are quickly forgotten and the utility of what's been saved soon expires. As disorder grows, user adoption falls because the experience has become cumbersome. 
When implementing a legal technology tool, user experience is not just the user interface of the software. A user's experience is every interaction they have with the legal technology provider. At Apperio we have a strong and focused customer success team that helps enable the structure and change management needed to get value.
3. Tension between usability and data density 
Spreadsheets are the definitive home of dense data and are another example of the challenge of getting UX right. These tools show the tension that exists between striving to make a product simple and catering for every possible use case and data view. 
Many spreadsheets are overwhelming for anyone but the originator. It's difficult to get the right granularity of data – to feed the right view – to the right user. The correct data representation is crucial for good decision making. Sometimes a densely populated spreadsheet is the best way to get a detailed picture but more often people cannot see the wood for the trees.
This is yet another demonstration that developing intuitive or easy-to-use technology is a complicated endeavour. In many ways, that's why traditional tools to manage legal spend, like e-billing, often have but one user in any given organisation. 
4. An expanding ecosystem of users
At Apperio, we got started serving GCs and legal operations by focusing on their user experience. And while these roles remain our priority, feedback, observation and research are all suggesting their use case is expanding to a wider ecosystem in legal spend management. Today, we're helping legal leaders solve their challenges by helping their stakeholders resolve similar pains.
Private Equity (PE) firms, which constitute about one-third of our customers, offer a case in point. An independent survey that we commissioned revealed the trilateral relationship and distributed authority among deal, legal and finance teams. This found that such a model can contribute significantly to cost overruns in external legal spend. 
This happens because, while two-thirds (62%) of in-house legal teams in PE are accountable for selecting preferred law firm partners, fewer than half (46%) are responsible for approving budgets on new legal projects. Additionally, just 28% are tasked with measuring outside counsel performance.
As our founder and CEO Nicholas d'Adhemar told Law360, "…it's the deal teams that are communicating with the external lawyers and the law firm every day. So, it's almost like the lawyers are trying to get in the room, but they can't, and they are expected to do something, but they don't have the information."
Personalised UX for the entire organisation
Fund managers on deal teams, often work on multi-million dollar deals, but legal costs are only one aspect of a complex deal. They don't have time to sift through extraneous information. Legal costs can add up quickly and access to the right up to date view is important. 
We're aiming to show a fund manager a personalised view of their data in our product. If they can see their legal projects and their budgets, their interactions and inputs will allow the legal team to better manage matters and spending across the organisation. 
It's important to note, while some of the dynamics of PE firms are unique, corporate legal departments have similar challenges. Legal operations are reliant on the inputs from in-house lawyers in order to aggregate project and spend data in a way that's valuable for the organisation overall. 
To accomplish this, we're setting out to help our customers solve their stakeholders' problems. We're aiming for a UX that allows the entire ecosystem to manage matters and budgets by exception. This will extend organisational adoption and allow lawyers to use data to drive decisions that lead to better legal outcomes. 
* * *
Have some thoughts? If you have any feedback on this post or on UX in legal tech, we'd welcome your ideas. Contact us at info@apperio.com.
If you enjoyed this post, you might also like:
Where Outside Counsel Billing Guidelines and E-billing Fall Short
Photo by Kelly Sikkema on Unsplash
Explore more content on similar topics: