14 Aug 2020
Typical M&A deals cost US private equity $353k in legal spend (and other outside counsel statistics from US-based PE firms)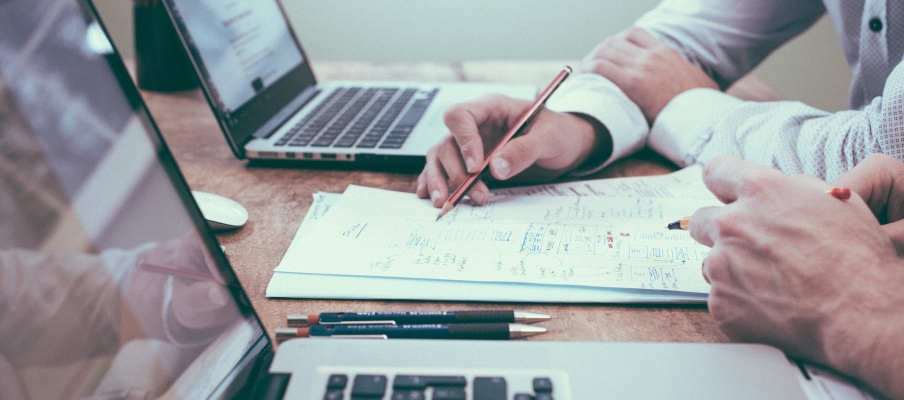 Private equity (PE) firms raise and invest billions of dollars. These organizations also spend millions with law firms to protect their business and investments. 
We recently hired a third-party research firm to better understand trends in legal spend among US-based PE firms. The researchers polled senior legal stakeholders at such PE firms with at least $2 billion under management. 
The findings present opportunities for PE firms and law firms alike. For PE firms, the data provides useful benchmarks of legal spend across a cohort of peers. For law firms, especially those specializing in corporate transactions, PE represents high-value legal work and market opportunity.
Private Equity Legal Spend Statistics from the US
The full report includes data from 100 PE firms across both the US and the UK. However, after the report's publication, we received significant interest from PE firms and law firms alike based in the US. Since about half (47) in the study are headquartered there, we've gone back through the data to pull out just the US statistics. Importantly, you will find additional granularity about legal spend among PE firms that goes beyond what we included in the original report. 
 
1. Average legal spend.
US PE firms spend an average of $10.5 million annually on outside counsel legal fees. The vast majority (92%) spend between $2 million and $25 million – although 6 percent spend more than $25 million. 
Here's how those numbers break out:
2% spend less than $2 million on legal fees annually
26% spend between $2-$5 million 
36% spend between $5-$10 million 
30% spend between $10-$25 million
6% spend more than $25 million
 
2. Average legal expense per M&A transaction.
US-based PE firms spend an average of $353,000 on external counsel during a typical merger and acquisition (M&A) transaction. There does appear to be both a ceiling and a floor to legal costs in M&A: no respondents paid less than $50,000 per transaction and no respondents paid more than $1 million. The majority (60%) spend between $201,000.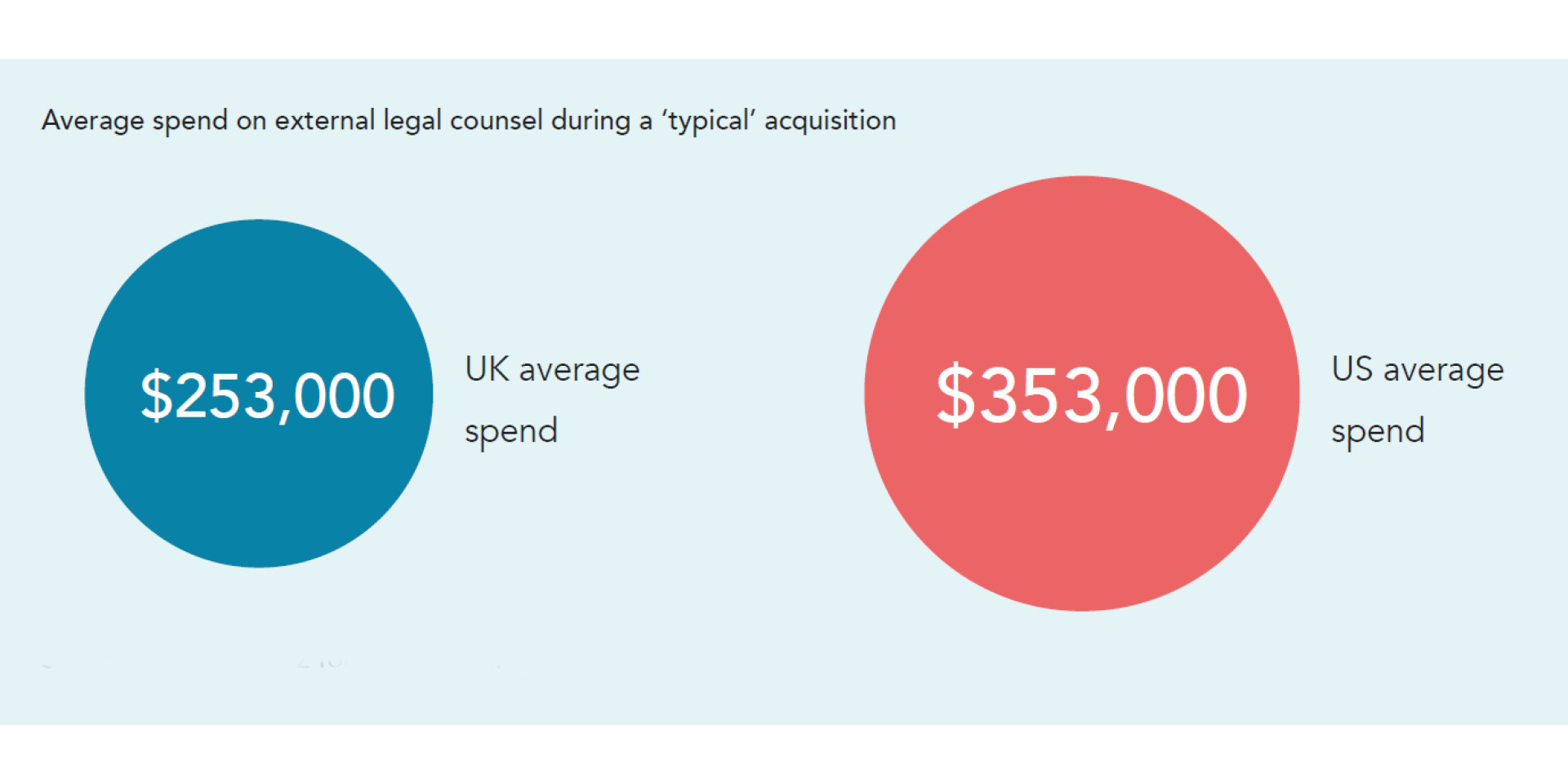 3. Big-ticket legal costs outside fundraising or M&A.
Outside of fundraising and M&A, more than 80% of US PE firms reported one-off legal expenses accounting for 5% or more of the total legal spend. These line items included the following:
87% cited employment
87% cited regulation
81% cited litigation
53% cited tax
In addition, four percent of respondents cited additional big-ticket costs they preferred not to identify. 
4. Size of the law firm panel.
About half of the US PE firms (47%) work with between six and 10 external law firms, though some work with more and some work with fewer:
36% work with 1-5 external law firms
47% work with 6-10
13% work with 11-20
4% work with 21-30
It's worth noting, most send much of their legal work to a smaller panel of firms. Among US PE firms, 81% say three-quarters of their total external legal spend goes to six or few law firms. In addition, about one-third (30%) say they spend that amount with just 3 or fewer firms. 
5. As deals slow, legal spend slows.
The vast majority (98%) of PE firms expect their legal spend will decline in 2020. Some 83% say legal spend will fall by 6% or more. Another quarter (23%) expect it to drop by 10% or more.
One key factor is most respondents expect deal-flow to slow and so their need for external counsel has slowed. However, that's not the only reason. Below are the factors PE firms say are driving cost pressure on legal spending:
89% – reduction in deal volume
87% – increase in other costs
68% – introduction of procurement skills
51% – introduction of producing leads or teams
19% – demand to improve efficiency
 
6. Scrutiny of legal spending grows.
Recessions tend to accelerate trends already in motion. To that end, PE firms say they were already scrutinizing external legal spending. US PE firms report a 24% increase in the level of scrutiny applied to external legal spend since 2018. As deal volume drops, and other cost pressures grow, it stands to reason legal spending will continue to be carefully examined.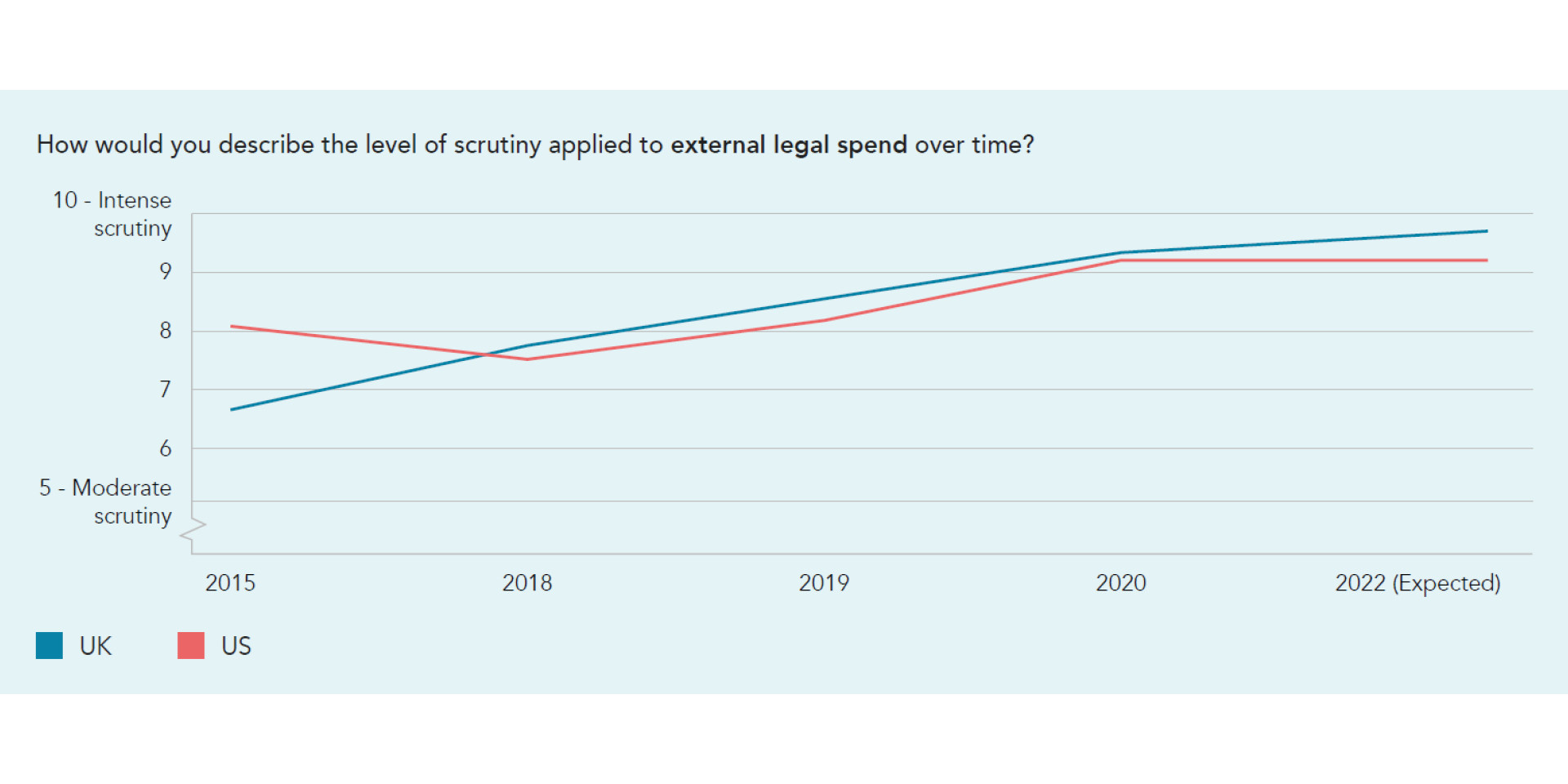 7. Value the counsel, but not the business process.
It's clear from the data, that PE firms value the legal counsel they are receiving from their law firm partners:
91% trust their external legal counsel to offer quality advice
85% trust external legal counsel to bring innovative ideas to support their business
 
However, the business side of the relationship leaves much to be desired:
53% trust their external legal counsel to bill them promptly
30% trust their external legal counsel to bill them accurately
 
Nearly eight in 10 US-based respondents don't believe their legal spend is transparent and, it seems, are routinely surprised by the invoices they receive from law firms.
 
8. An opportunity for better legal operations.
While law firms could improve their billing processes, PE firms also have an opportunity to get a handle on legal spending. About four in ten (43%) senior legal stakeholders do not believe that their organizations currently make efforts to manage legal spend. Moreover, most (91%) are still collating and analyzing billing data old-fashioned spreadsheets. 
* * *
The statistics above were derived from a survey of 47 US-based private equity firms with at least $2 billion under management and have raised more than one PE fund. Among this slice of the sample, two-thirds of respondents had $5 billion or more under management and 57% have raised five or more funds. The full report – The Changing PE Legal Spend Landscape – is freely available for download with registration. 
Image credit: Unsplash
Explore more content on similar topics: