29 Jun 2021
5 statistics from the CLOC survey that make the case for corporate legal analytics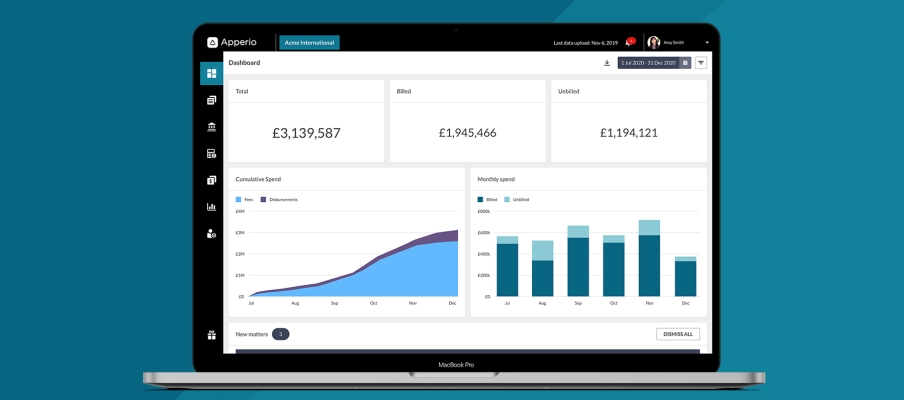 Legal departments report investing an average of $1.2 million on legal technology annually. That's according to the 2021 State of the Industry Report recently published by the Corporate Legal Operations Consortium (CLOC). 
The report was fielded in collaboration with the Association of Corporate Counsel (ACC) and is based on a global poll of 200 corporate legal departments across more than 22 industries.
The survey was wide-ranging and covered many topics top-of-mind for GCs and CLOs. For example, Canadian Lawyer magazine picked up on the growth in legal department spending while Corporate Counsel noted diversity and inclusion is a top priority.  
From our perspective, looking at the survey data through the lens of legal tech, we found many of the statistics make the case for improving analytics in corporate legal. 
1. Growth in legal spend necessitates automation and analytics 
The median spend on outside counsel "practically doubled," last year from $7.9 million to $14.5 million. Despite this increase being partly "due to the shift in the mix" of companies participating in the survey, these figures highlight the scale of spending on legal services across the industry. Indeed, the mean was much higher at $52 million, with ranges depending on the company size between $5.9 million and $85.7 million in external legal spend.  
It's not uncommon for a law department to spread that spend across dozens of law firms. In fact, a separate benchmarking study by the ACC put the average number of law firms employed by a legal department at 40. 
What's the case for legal analytics? It's nearly impossible to get a current and accurate picture of legal spend in such volume without automation and analytics. The need for a comprehensive, single source of truth view drives better decision making and helps articulate value to the business. 
2. A 50/50 balance of internal and external legal spend
The report says, "the balance between internal and external" legal spend is "essentially even." That's a shift from "last year's 60–40 split in favor of external spend." There are other in-house counsel surveys with similar findings – but how does the legal department know if the mix is right? 
We think the answer lies in analytics. As we point out in our downloadable guide, Five Principles for Effective Legal Spend Management, corporate counsel has four basic resources for completing legal work:
Enabling stakeholder self-service.
Bringing legal work in-house.
Assigning work to a law firm, ideally those on a preferred list or panel.
Outsourcing work to alternative legal service providers.
 
The key to choosing the right mix is to design a methodical process that uses data and analytics to make decisions. A comparative cost-benefit analysis of each of these options – even one that relies on a 'best estimate' – is a good start. 
3. Law firm performance reviews are unstructured
Given the value of spend with outside counsel, the survey data around performance reviews was stunning: just 27% of respondents formally review law firm performance. This speaks to the balance of legal resources – in-house legal teams can't objectively determine if the mix is right without a framework for evaluating performance. 
Unstructured and ad-hoc performance reviews also risk the legal department's standing within the business. Articulating millions of dollars in legal spend to business leaders, based on a 'necessary cost' or a relationship without performance metrics, is hard to quantify and defend. 
Taking this a step further, the survey asked what triggers the need for law firm reviews. 45% said the amount of legal spend was the catalyst for reviewing a law firm's performance. Our sense is that this may be a reaction to a problem. For example, corporate counsel gets a surprisingly high invoice, which triggers a review and subsequent haggling for discounts. It's not pleasant for either side of the table – and it's not necessarily informed by data or analysis.
Importantly, some of the law firms we work with welcome a formal review process because it facilitates clear guidelines. The law firm and client always know where they stand with each other, which strengthens the relationship and fosters transparency. 
4. Legal operations continues to grow
Law departments continue to add legal operations personnel to their team. "The average size of legal operations teams increased both overall – 7, up from 6 – and across company sizes and industry sectors," according to the report. 
The survey also found about half of these legal ops teams are guided by a leader with a director or manager title. In addition, about 60% report directly to the GC, which the report says, "indicates a continued growth in the prevalence, scope, and stature of the function."
These professionals are likely to be among the biggest proponents of process, automation and analytics in the legal department – and there's still a lot of work to be done in those areas. For example, an in-depth study on legal ops by Deloitte found, "60% of respondents said, "recurring tasks and data management constraints keep them from creating value."
5. An opportunity for data analytics in legal
The survey revealed two in-house opportunities in data analytics. First, 58% of law departments gave themselves low grades for their organization's "maturity level" for data analytics. Second, "legal analytics, metrics and dashboards" ranked sixth on a list of 17 technologies that are most widely used by corporate legal departments. 
We believe the correlation here is significant. Data analysis is not part of a lawyer's training, so corporate legal naturally gravitates toward those tech tools that have the most familiarity: signatures, matters, contracts and documents. Yet developing the analytical skills and procuring the right tools provides the opportunity to use data to drive efficiencies, improve relationships with law firms and achieve better legal outcomes. 
* * *
The full report runs 19 pages and is worthwhile to spend some time reading. It is freely available for download from CLOC here: 2021 State of the Industry Report.
If you enjoyed this post, you might also like:
E-billing vs. Legal Spend Management: Similarities and Differences
 
Explore more content on similar topics: