24 May 2022
3 unique ways corporate legal is using Apperio to control costs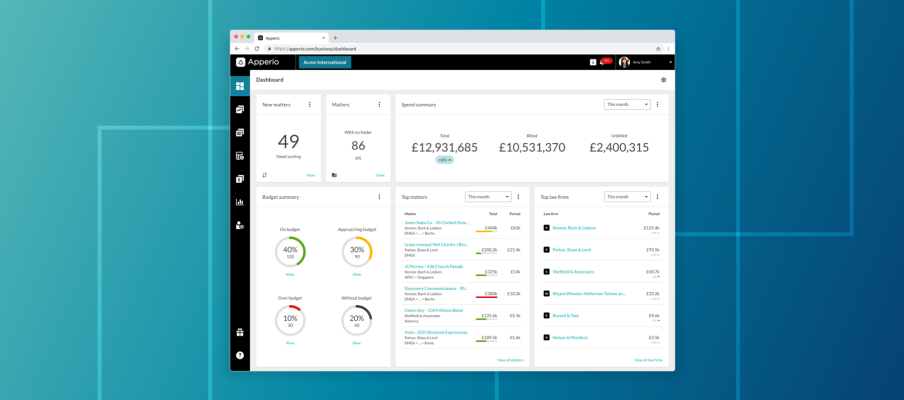 There's often more than one way to achieve the same goal. In each of the following examples, the legal department set out to control legal costs – and they found success in different ways. 
In the first example, the legal operations team centralized legal services first – and then added automation to eliminate rote tasks.
In the second example, centralization of legal services wasn't possible (common in certain markets). Here, the legal team pulled the requisite data together so they could be aware of legal spending, even when law firms are instructed outside of the legal department's purview.  
In the final example, the legal operations team used a combination of process and technology to collect data and analyze it to make strategic choices about how to best source legal work.
Read on to get the details on how corporate legal departments are uniquely using Apperio to control costs.
1. Getting overall legal spend in one place
The Phoenix Group was doing all the right things to control legal costs. They required that all work with outside counsel be run through the legal department. They consolidated their legal panel of law firms. And they put good controls in place to manage budgets for individual matters. 
While these legal best practices did improve control, one significant challenge remained: the legal operations team still didn't have a comprehensive view of the legal department's collective legal spending. Getting that view was essential because corporate policy compelled the legal department to tally accruals and re-forecast their legal budget every month.
The legal ops team would reach out to in-house lawyers and the law firms assigned to open matters to ask for the budget status. The team would field emails with bits of information and pieced it all together in spreadsheets. The process was time consuming for all those involved, including their law firms, prone to manual mistakes, and the data quickly went stale as matters progressed.
Apperio easily solved this problem. Its legal spend management software automatically obtains WIP data – both billed and unbilled time – directly from law firms. The data is then rendered in easy-to-understand dashboards and reports with up-to-date information on budgets and accruals.
"Apperio provides us with an overall picture of our panel and overall legal spend in one place. That gives us a lot of value," says Sarah Gormely, Head of Legal Operations for the Phoenix Group. "It also allows us to analyze and break that spend down which in turn helps us to have better conversations about costs with all our firms." 
Some of the other benefits the Phoenix Group gained include:
Visibility into their law firm budgets and legal spend in one place;
Command of the company-wide legal costs before receiving an invoice; and
Analysis and data to guide fair and equitable conversations with law firms.
 
Read the full case study: How the legal operations team at Phoenix Group used process and technology to control legal costs
2. Keeping tabs on decentralized legal spend 
Cornerstone provides mobile connectivity to more than half of all mobile customers in the UK. To provide this connection, the company manages some 20,000 locations, which in turn drives a sizable volume of legal work: commercial contracts, governance and compliance, property transactions and disputes.
For Phil Warren, Head of Legal and Compliance at Cornerstone, centralizing legal spend simply isn't a viable option. This is because the business demand for legal services occurs at a pace and volume that exceeds the 3-member team's capacity to manage it all. Other teams outside the legal department often instruct outside law firms on matters directly. 
"There can be thousands of legal instructions out there at any one time across the firms that we work with," he says. "So ultimately, I've got no way of knowing where the legal spend is coming from and controlling it."
That challenge is what led Phil to Apperio and its legal spend management software. The technology plugs directly into the practice management systems at Cornerstone's outside law firms. This enables him to neatly aggregate what's being spent on legal services – accruals and WIP – across the entire business as it's being entered on time sheets.
"The single biggest driver was having transparency and clarity on what we're spending…it was almost impossible to get accurate information – and our legal spend is sizeable," he notes. "We needed to know what was being spent, where it was being spent and have the ability to manage that with real-time access."
Apperio has helped Cornerstone in three primary ways:
Being able to accurately report on legal spending across all company matters;
Managing that spending actively – rather than relying on an invoice that comes later; and
Freeing up his team from administrative duties that don't add value to the business.
 
He says Apperio has helped his team "save at least 25-30% of the legal team's time, simply by having easy access to the right information."
Read the full case study: How the Legal and Compliance Department at Cornerstone gained clarity and control over decentralized legal spend
Also see this guest post in Legal IT Insider, co-written by Phil and Apperio CEO Nicholas d'Adhemar: Five Ways to Smooth Your Next Legal Tech Implementation 
3. Using data to decide how to source legal work
Royal London is the largest mutual insurance company in the UK with £150 billion in assets under management. Its legal operations team saw a strategic opportunity to control legal costs using data to drive decisions about how they sourced legal work. 
Head of Legal Operations Jenny Hacker and her team set about surveying the legal services the legal department provided. They classified work in three categories – high, medium and low risk. They next used that framework as the basis for determining how to source legal work among the in-house team, law firm panel, ASLPs and services prime for automation.
While the project started using spreadsheets, it grew into a fully-fledged ecosystem. That includes Apperio and other technologies such as document and contract management tools. The team calls this system the "legal service remit" – and it was embedded in every aspect of the legal department.
The result freed time for in-house lawyers "to focus on higher-value, strategic work which has developed our in-house capabilities and improved engagement through the opportunity to undertake challenging work. Consequently, Royal London could keep its more important work in-house which also contributed to substantial savings in external legal spend."
Some of the other tangible benefits of the overall project include:
Obtained real-time information on matters, contracts and spending;
Established conventional metrics for WIP and unbilled accruals; and
Experimented with measures for wellbeing and diversity for the in-house team and external legal service providers.
 
"The work undertaken to date has accelerated the legal operations team's ability to create detailed forward-looking plans," says Jenny. "For example, we are now evaluating an integration project that will allow us to compare internally and externally resourced matters, from a matter and spend perspective more easily."
Read the full case study in The Dockett by the Association of Corporate Counsel: How Royal London's legal operations team used a data-led approach to improve decision making 
* * *
See Apperio in action: The Apperio platform provides in-house legal teams with a proactive approach to control legal spend. See for yourself and schedule a live demo by emailing info@apperio.com.
Explore more content on similar topics: