19 Oct 2021
Apperio unveils new dashboard providing law firms with a client-centric view of legal spend data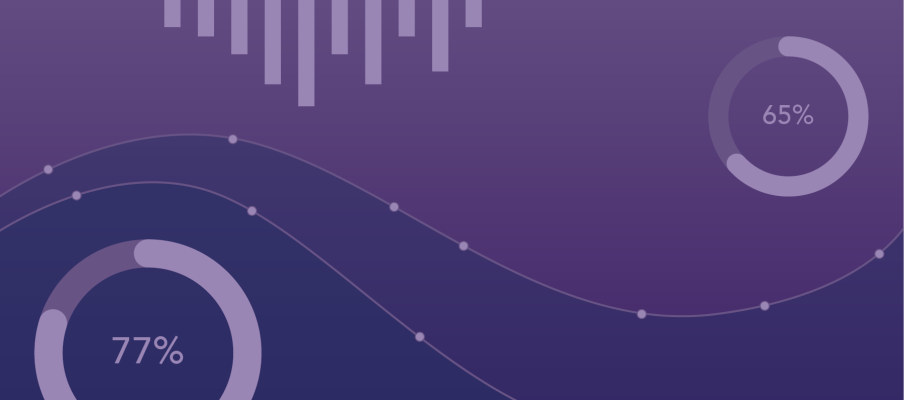 Rather than 'Weaponizing' Data that Fuels Adversarial Relationships, Legal Spend Management Software Supports the Shared Interests Among Inside and Outside Counsel 
London, UK – October 19, 2021 – Apperio, a provider of legal spend analytics and matter tracking software, today announced a new spend dashboard that provides law firms with a live view of their work-in-progress (WIP), accruals, and invoice data – similar to the view Apperio already provides their clients. This dashboard now offers law firms a centralized view of legal spend across all their client accounts that are connected to the Apperio platform. 
"Many of the legal spend products on the market today weaponize data and play one side against the other, which stokes an adversarial relationship between in-house teams and their law firm partners," said Apperio Founder and CEO Nicholas d'Adhemar. "By contrast, this new dashboard feature puts law firms on the same page as their clients – fostering greater transparency, trust and collaboration between in-house and external counsel."
The Apperio platform is better known as a legal spend management tool for corporate counsel to see spend ahead of the invoice. Its product receives data directly from the practice management systems used by law firms, to provide clients with real-time visibility into WIP, accruals and historical spend data. This allows in-house teams to proactively manage legal expenses, rather than wait and react to higher-than-expected invoices. 
There are more than 200 global law firms with practice management systems integrated with the Apperio product. When the company rolled out personalized dashboard functionality for corporate counsel, many law firms expressed an interest in having a similar capability. The dashboard feature being announced today is based on our direct discussions with law firms and is uniquely designed to meet law firm needs.
The dashboard helps law firms solve a historical problem that emerges every time a client calls a billing partner with a budget question: The client calls the partner, who calls the assistant, who calls the finance team, who pleads with the associates working on the matter to enter their time so they can run a report – and provide the partner with the data to respond to the client. This process can take days to unfold and is a sizable disruption to the business of law. 
Law firms with clients that use Apperio have documented the improvement to contemporaneous time entry as well as faster payment times. Now, with this new dashboard, when a client calls with a budget question, the law firm partner has access to the same data. They can see where the client question is coming from and filter and analyze the data to answer that question on the spot. 
The functionality and benefits available to law firms using Apperio include:
Legal spend summary. The spend summary provides a single consolidated view of all billed and unbilled work across all connected clients. It puts spend data at a partner's fingertips to answer any client question.
 
Budget summary. A view of the budget status of legal matters – showing those matters that are on, approaching, or over budget. This allows law firms to manage client expectations and eliminate the chance of surprise invoices. 
 
Top matters list. A list depicting clients that have accrued the most spend over a specified time; for example, the last 30, 60 or 90 days. It helps partners easily identify their recent highest-paying clients.
 
Aged unbilled view. The aged unbilled view provides a comprehensive breakdown of unbilled spend over historical periods. With this view, partners can detect work their team has done that needs to be invoiced.
 
Analytics and filters. The dashboard provides several features that allow law firms to analyze legal spend. This enables insight into client trends such as the percentage of change on high-value accounts or seasonal spending.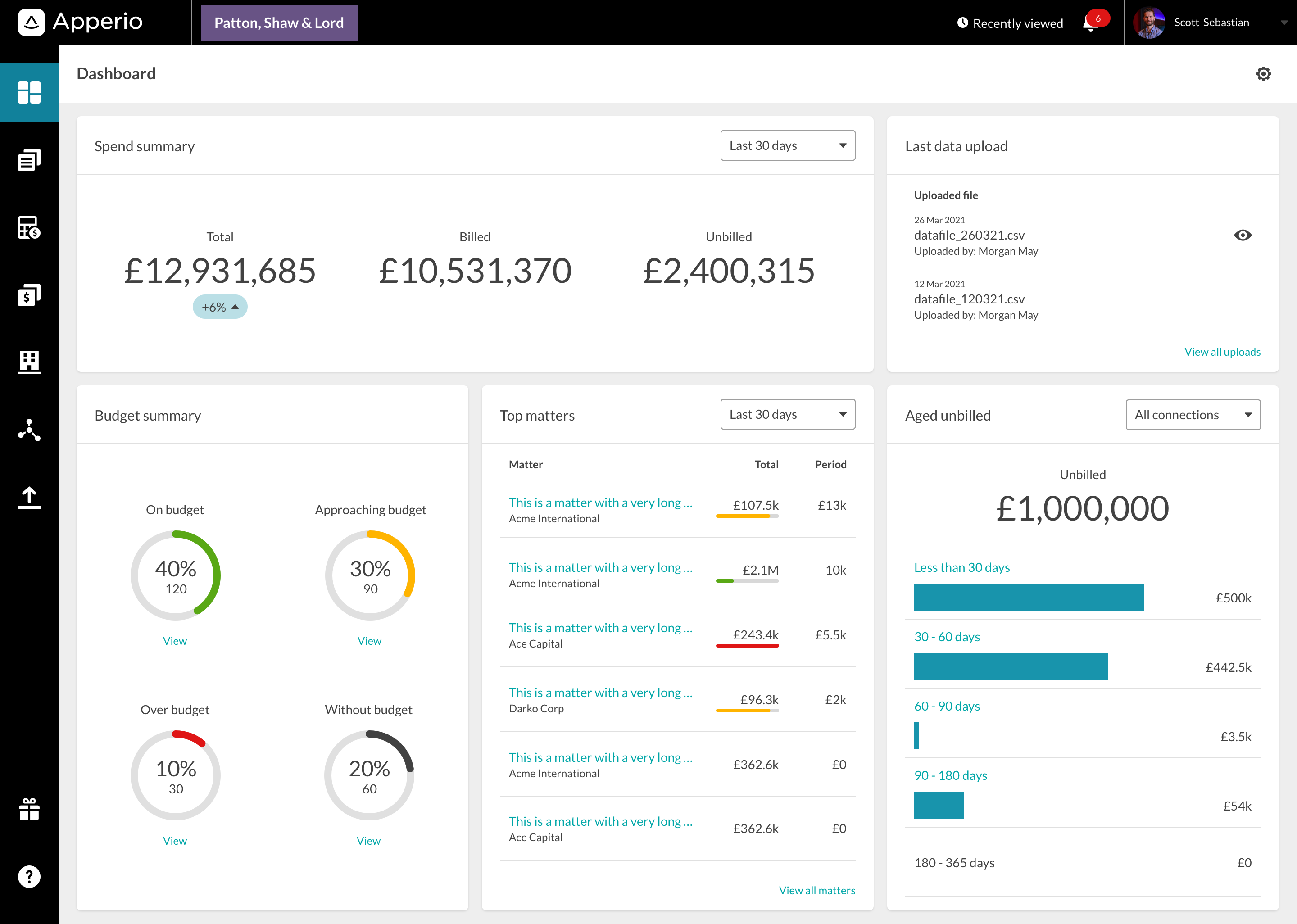 "Apperio is committed to improving the ways in which law firms can be better financial stewards of their clients' matters," added d'Adhemar. "In doing so, we are helping both law firms and their clients bring greater transparency to legal work, improve collaboration and drive the legal outcomes desired." 
# # #
About Apperio
Apperio is a legal spend analytics and matter tracking platform which effectively transforms how corporate legal departments function, bringing clarity, control and confidence to their operations. The platform provides complete real-time certainty on legal spend, aggregating data from all connected law firms and providing consistent, up-to-date information on all work-in-progress (WIP) and billed legal matters. Apperio visually represents for legal teams, finance and other corporate departments exactly what has and will be spent on legal fees, demonstrating the performance and value of external law firms. Quick to install, cloud-based Apperio requires no on-site IT team. Currently, the platform is used daily by more than 50 in-house legal teams including Epiris, EQT, Network Rail, Royal London, Monzo and Cornerstone.
Apperio is based in London, England. For more information, please visit Apperio.com or follow Apperio on LinkedIn or Twitter.
Media Contact:
Frank Strong
for Apperio, Ltd.
+1 202-352-5920
media@apperio.com
Explore more content on similar topics: