17 Nov 2021
The 5 barriers to legal spend data collection and analysis
In-house legal teams in financial services are increasingly confident in their ability to collect spend data.
Seven in 10 respondents (70%) to an independent survey we commissioned said their law department collects detailed data on where and how it's spending on legal services. 
That's notable progress, because even just a year or two ago, it wasn't uncommon that we'd talk to a GC who couldn't articulate what they spent on outside counsel last quarter. However, there's still room to grow in terms of the legal analytics maturity curve. 
The findings also indicated legal departments are limited in how well they can use collected data to glean insights. While many understand the data on an individual matter or law firm basis, they struggle to collate, aggregate and analyze legal spend across their organization.
This is important because spend data on any given matter isn't nearly as valuable as data that compares spending across matters and service providers. The ability to see trends at a comprehensive level is what yields the insights to drive better decision-making. 
What's getting in the way? The survey revealed five barriers that hamper legal spend data collection and analysis.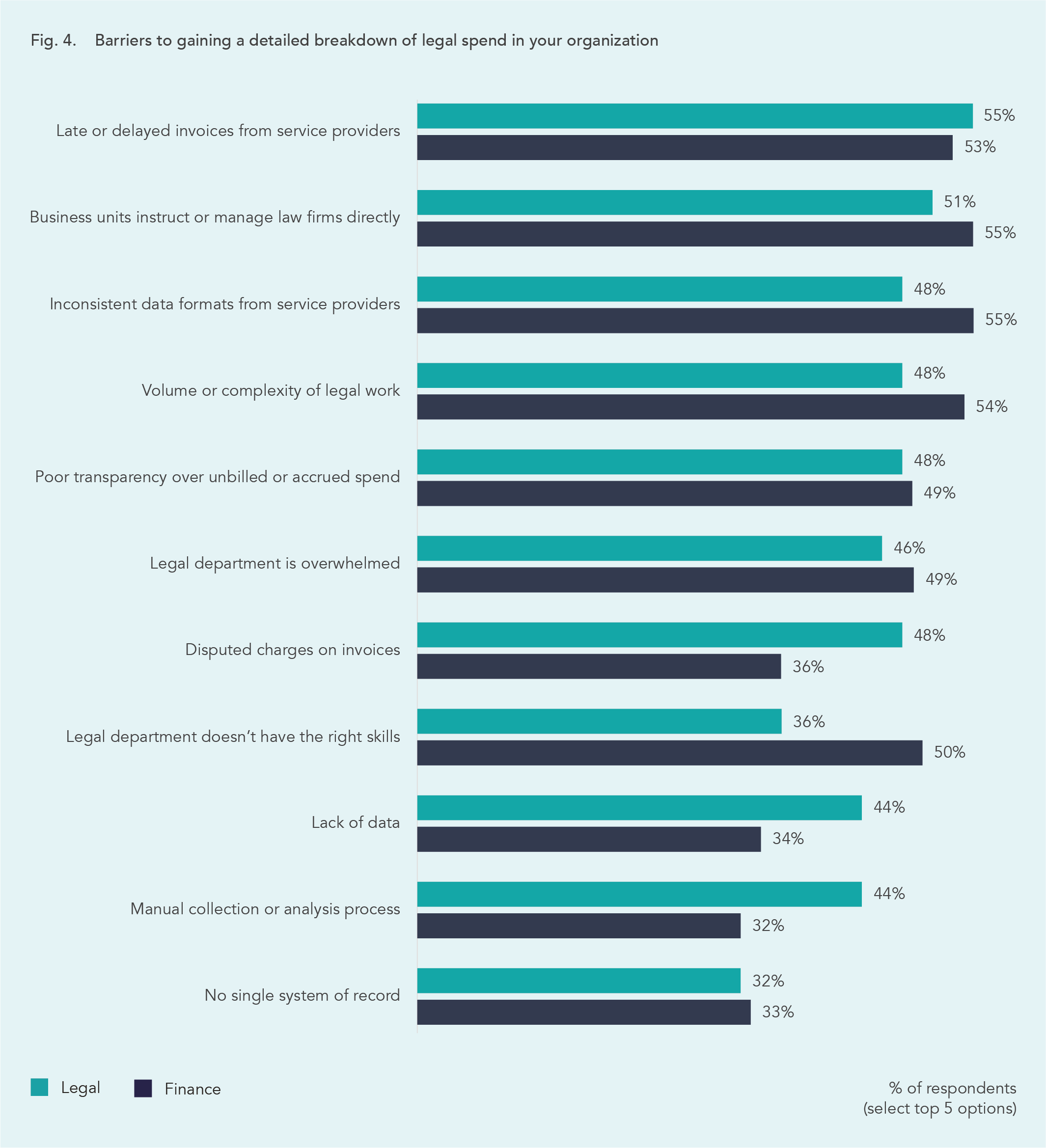 1. Late or delayed invoices from service providers. 
More than half of respondents (54%) cited "late or delayed invoices from service providers" as the top barrier to gaining a detailed breakdown of legal spend in their organization. Routinely late invoices can inhibit data collection and reporting for months. 
This is especially true if the invoice exceeds expectations. Sure, the old standby is to negotiate a discount, but that creates an adversarial atmosphere. It's worth noting here, 44% of respondents also agreed that disputed charges were a challenge in managing legal spend. 
2. Business units instructing law firms directly. 
About half (52%) of respondents cited a barrier of "business units instructing or managing law firms directly", which ranked in second position. This challenge is common in financial services, and in particular with private equity (33% of respondents work in PE). 
While legal work is centralized through the legal department in many corporate environments, financial services organizations often need to move quickly, for example on investment opportunities. As such, highly transactional teams often work with a preferred list of law firms directly. This puts the legal department in a difficult position – that is they are held accountable for legal spend without the proper means to control it effectively.
3. Lack of data standards and varying reporting formats. 
Half (50%) of respondents cited "inconsistent data formats from service providers" as a top barrier. When clients ask for budget status updates, they receive it in various forms – spreadsheets, presentations, phone calls and email updates – which are labor-intensive to collate.
Interestingly, CFOs and other finance leaders (55%) view this as a larger concern than their peers in legal (48%). With that in mind, 40% of respondents also rated "manual collection or analysis process" as a barrier to gaining a detailed understanding of legal spend. 
4. The volume and complexity of legal work. 
Half (50%) of respondents said the "volume or complexity of legal work" is a barrier to legal spend data collection. Legal work in financial services tends to be dynamic, unpredictable and variable. For example, in fundraising, meeting the specific requirements of each limited partner can significantly increase the legal costs of setting up a new fund. 
5. Transparency in WIP and accruals. 
Rounding out the top five barriers, 48% of respondents cited "poor transparency over unbilled or accrued spend". Real-time visibility into unbilled work-in-progress (WIP) and accruals is crucial to control costs. It's a proven way for law firms and legal departments alike to decrease the chances of surprising a GC with a higher-than-expected invoice. 
* * *
What's the solution? Legal leaders should strive to automate the collection and aggregation of spend data from law firms, ideally prior to invoices being received. This can provide a real-time view of accruals and allow for comparisons to be made across different time periods, law firms and similar matter types, to improve control and support data-driven decisions.
Download the full report here: The legal spend landscape for 2022.
If you enjoyed this post, you might also like:
Financial services increasingly turns to legal technology, finds new report
 
Image credit: Unsplash
Explore more content on similar topics: