9 Jun 2022
7 ways Apperio evolves legal spend management beyond e-billing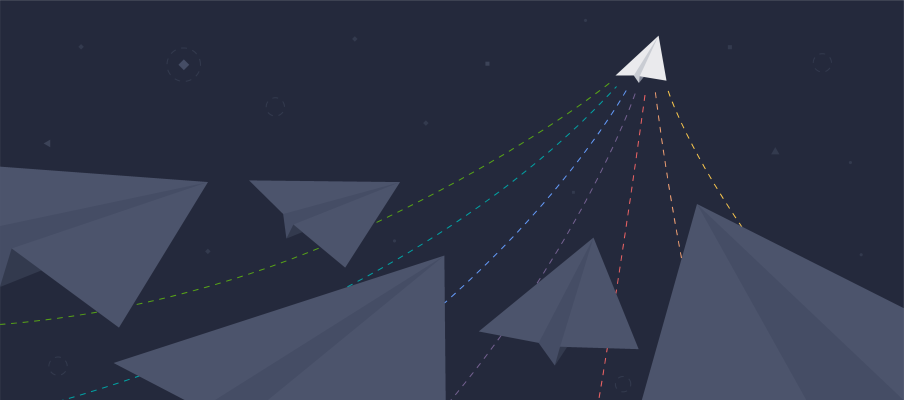 Apperio enables corporate counsel to do things they can't do with e-billing, such as viewing WIP and accruals to understand legal spend without having to wait for a law firm invoice. 
Apperio's legal spend management platform is often compared with e-billing. While both technologies provide value to corporate legal departments, and they have similar objectives, in practice they go about achieving these goals very differently.
The reason for this stems from how the products work. E-billing software generally receives invoices from law firms and automatically reviews the bills for compliance with predefined billing guidelines. This application of automation is useful, however e-billing still requires an invoice to trigger a reaction.
This dependence on invoices has been a long-standing challenge, particularly when legal bills are complex and frequently based on hourly rates. Corporate counsel rely on invoices to understand how much legal spend has been accrued – yet these can arrive months after the work is performed, while open matters are accruing costs all the time. 
By contrast, Apperio's legal spend management approach is proactive. The software draws data from the time and billing systems used by law firms. This information is available immediately on demand, bringing transparency and predictability to legal spending ahead of the invoice. Clients can see exactly the same data as law firms, at the same time.
Here are several things you can do with Apperio that go beyond traditional, invoice-based e-billing solutions:
1.  View current WIP and accruals – ahead of the invoice
The most obvious difference lies in work-in-progress (WIP). Unlike e-billing, Apperio's data originates from law firms' own time entry systems. This allows you to see the current WIP and associated billable time that has accrued, as it happens. The dashboard will show you both billed time and unbilled time, so when the business asks how much the legal department has spent, you'll have the precise answer at your fingertips.
This provides complete budget oversight and cost certainty for any given matter – and in aggregate across all your matters.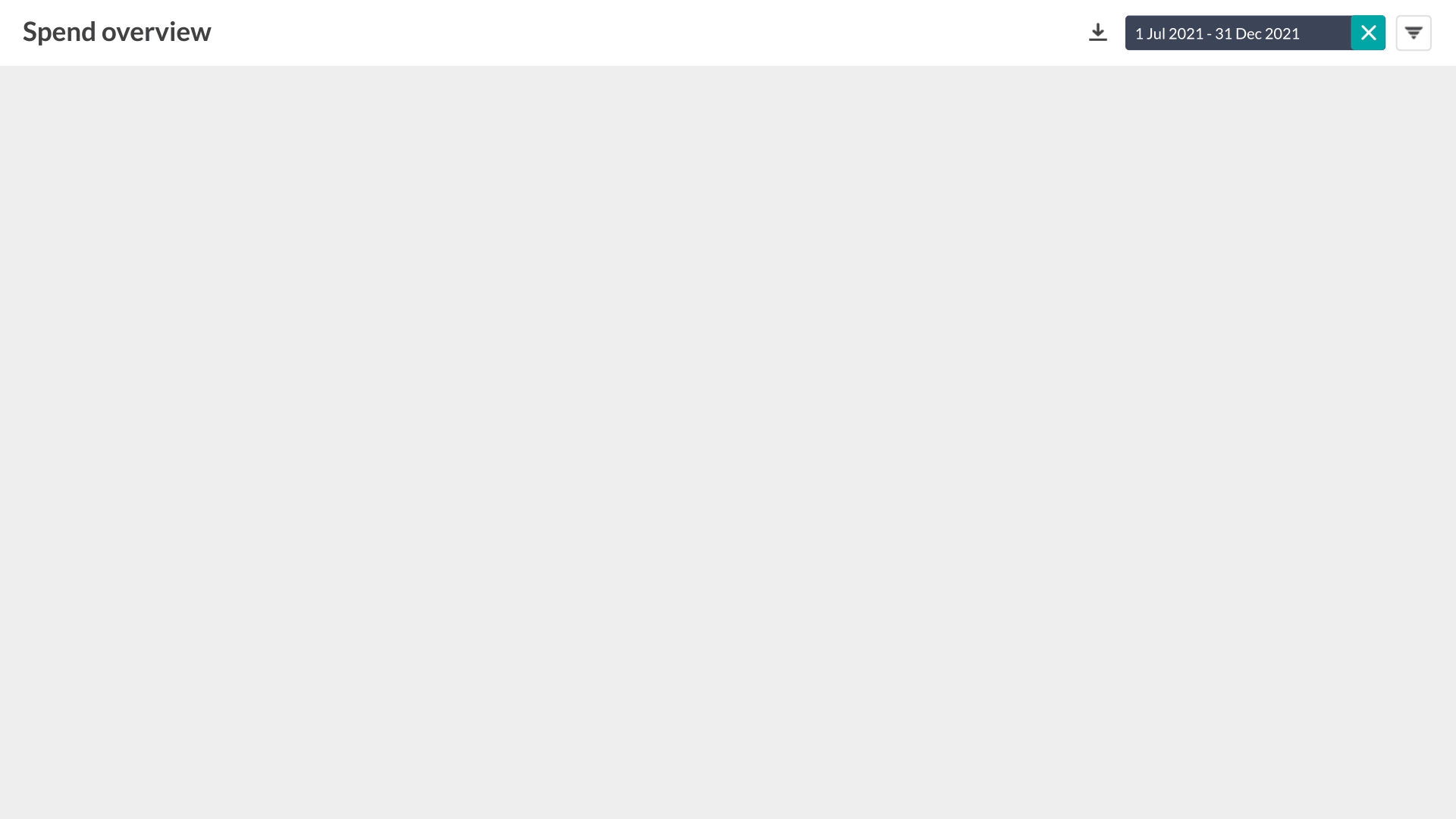 2. Prevent "bill shock" and surprise invoices
With Apperio, your new-found oversight on accrued fees will prevent that sinking feeling: either when you get that call from your relationship partner to soften the blow on an impending invoice, or when you realize payment is due on already-forgotten work completed six months ago.
In this way, invoices simply represent a formal request for payment, rather than the starting point of negotiations.
For customers like Phoenix Group this is critical. As a matter of policy, their legal department must account for accruals and re-forecast their budget every month. More importantly, they must provide evidence to justify cost overruns, which previously required phone calls, emails and spreadsheets to fill in the gaps between invoices. This was reactionary and a laborious task –  now it's all automated right there in Apperio.
3. Control your legal spend proactively
Legal spend management has evolved to provide in-house counsel with greater control of their department. This is based on having full transparency of all legal work being carried out across the organization, in real time.
Unlike e-billing, which only shows part of the picture and after the event, Apperio provides full insight on legal fees from instruction to invoice approval. This means you can monitor spend at a high level, with the data available to drill into live matters as they progress towards budgets.
Perhaps this means taking greater internal ownership of a particular matter, reducing the scope of low-value work, or reviewing the strategies of specific projects with your law firms.
The point is, when you can see the costs in real-time, you have an opportunity to take action and control those costs, before a matter goes over budget. The alternative is to wait and react to a problem that has fully manifested, or an invoice that's higher than expected and catches you off guard.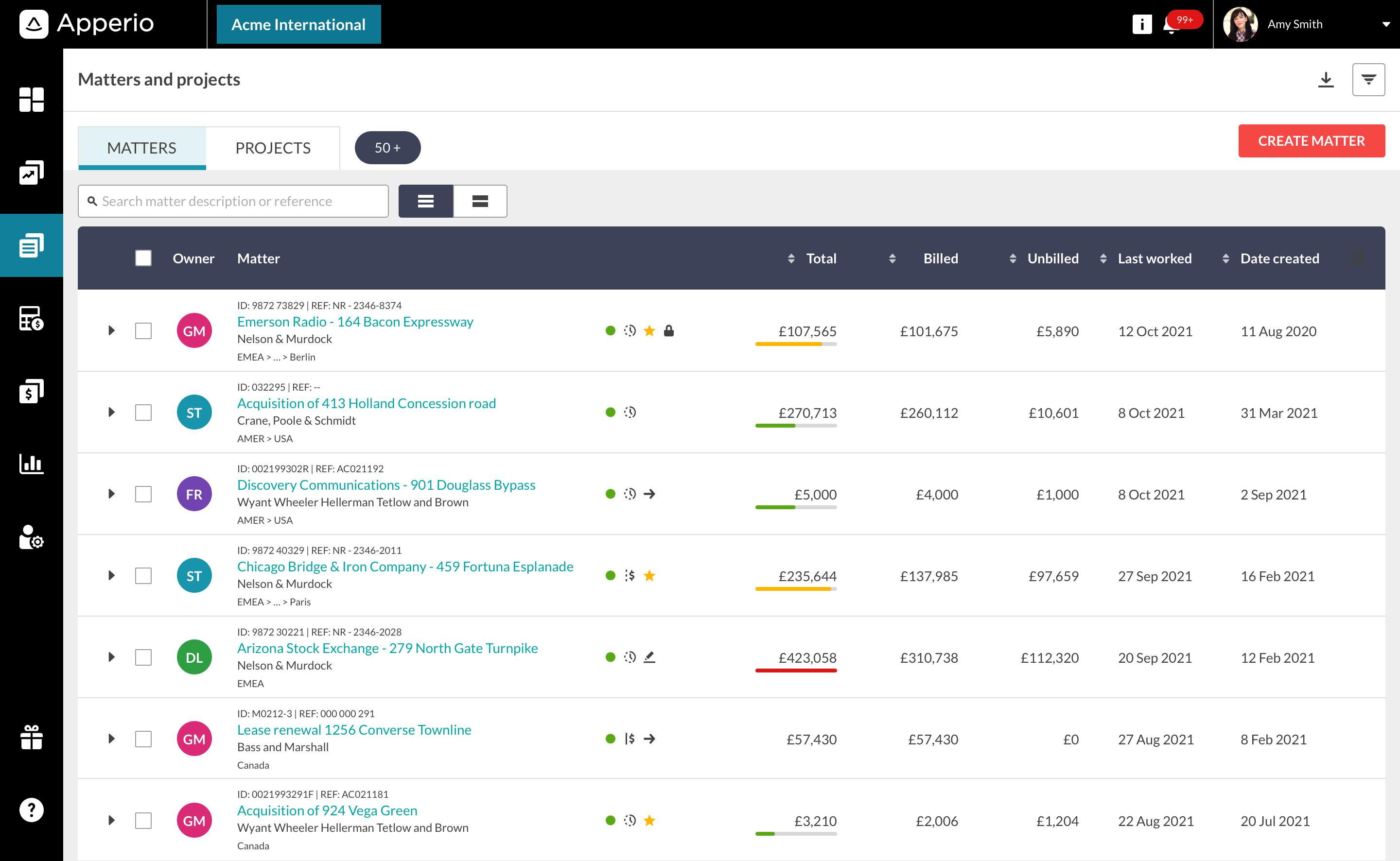 4. See law firm time entries and narratives 
When occasionally necessary, Apperio allows you to review the detailed time entries and narratives that will result (or have resulted) in fees charged to your organization. For example, a GC can drill into the full breakdown of work being charged to their matters, at each seniority level, to ensure the work completed meets expectations and instructions.
Law firms also benefit from this level of transparency for three reasons:
A.  When clients are actively engaged in the work of external counsel, they are better equipped to set and reset expectations as the work progresses. This prevents hours of wasted time and effort that risks being written off at invoice stage, allowing law firms to focus on providing mutually beneficial, high-value services instead.
 
B.  Law firms are paid faster on invoices that do not come as a surprise to clients, since they are informed of the fees being billed throughout each matter's progress and there are no surprises.
 
C.  Ultra-transparency is considered a competitive edge by innovative law firms, such as Dentons. Tactically, their internal data hygiene improves dramatically thanks to the Hawthorne effect. Strategically, these law firms gain trust and stand to win a greater share of their clients' legal spend. 
5. Analyze both current and historical spend
Invoices are by definition retrospective, so e-billing can only hope to analyze historical spend. And even then, often only when it has already been processed by the software.
While it's important to know where you were, it's equally important to know where you are now, relative to where you are going.
Upon activation, Apperio can perform a complete analysis of all your historical and current spending trends. This draws on the rich data that law firms already have in their time-keeping systems about your organization's spend history. This is information that you might not otherwise be able to access, let alone analyze. 
E-billing does not have this capability to gather historical data but rather can only react to invoices received post-go-live. 
Apperio can provide that total picture of your legal spend with data, analytics and visualizations. These tools allow you to find insights in a way that is specific to your organization and not based on general benchmarks.
6. Improve law firm relationships with data-driven conversations
We believe that legal technology should enhance productive working relationships between in-house legal teams and their law firms. Software solutions that weaponize data (e.g. for the sake of discounts and write-offs) create adversarial situations that can erode trust between all parties.
Conversely, taking a proactive approach to legal spend management improves transparency, predictability and fair value by putting law firms and clients on the same page. Apperio provides data to drive collaborative conversations that prove to be "fair and equitable" for both sides, as Sarah Gormley, Head of Legal Operations at Phoenix Group confirms:
"We are quite close to the law firms on our panels, and we treat outside counsel as an extension of the in-house team," she said in a case study about their use of Apperio. "Software tools that help you to have an open conversation are key to managing those relationships."
7. Benefit from industry-leading security, user experience customer support
With both ISO 27001 and SOC2 Type 2 certification, Apperio gives you the confidence that security is built into every aspect of our platform and company operations.
Our focus on user experience and customer support means we can have customers finding success in just weeks, instead of the months or years required to fully realize the benefits of many invoice-based e-billing solutions.
* * *
See Apperio in action: The Apperio platform provides in-house legal teams with a proactive approach to control legal spend. See for yourself and schedule a live demo by emailing info@apperio.com.
Download a PDF copy of this blog post here.
Explore more content on similar topics: